Skyler Russell

Information
Full name

Skyler Patrick Russell

Born

September 27, 1987

Endurance

, 5th place
Hometown

Phoenix, AZ

Age

14

Team

Orange Team

Partner
Arrived
Left

"Eruption"
Skyler is a very smart kid, having been in the Scientific Olympiad and a participant in the Scholastic Bowl at his school. He is also passionate about fencing and practices for eight hours a week. He believes his analytical skills will allow him to endure in this game.
—DiscoveryKids.com bio
Skyler Patrick Russell
(born September 27, 1987) is a former contestant on
Endurance
. He competed alongside his partner 
Chelsea Myers
 as the
Orange Team
.
Endurance
Edit
Skyler was one of the contestants that made it through the Right to Stay. In the partner selection, he was selected to be with Chelsea, who was as quiet as he was, despite the List dictating he was supposed to partnered with Layla. Skyler was part of the short-lived Brotherhood Alliance; it was broken when the Orange Team was handed over the Samadhi by the Blue team. Orange though was not sent to temple the following day even though Blue won again. 
Portrayal
Edit
At the beginning of the season, he was seen by the other contestants as quiet, and having some plans in mind. Some of the contestants worried because he could be strategizing something for the future.
"It's a lot colder than I thought it would be. It's very windy, and I don't like cold weather." 
"I want the sun to come out!" 
"Dead Bodies" 
"Sabrina's worst quality is that she doesn't seem to have any morals, and she would do almost anything to win." (Eruption)
"It's impossible to beat... the three strongest teams; it's hard to fight against that." (Eruption)
Post Endurance
Edit
Skyler was featured on an episode of A&E's Intervention detailing his addiction to bath salts; he continues using them with the aide from his mother and grandmother[1]. In his episode, he talked about how he feels that his mother drove him into using drugs because of her controlling and obsessive personality. She admitted to using drugs with him before, and while she was pregnant with him.
Skyler has been arrested twice since his appearance on Intervention. On January 12, 2012 he was arrested for aggrevated assault with a deadly weapon[2]. On April 21, 2012 he was arrested for criminal damage/defacing property and disorderly conduct/fighting[3]. Following his release he was arrested and booked on criminal charges and was bailed by his mother, when only a few hours later, both of them was arrested Tiffany Russell for drug use and Skyler for falsely reporting to law enforcement.
Trivia
Skyler cited in the Endurance Reunion that if he played the game over again, he would do it like Sabrina.
Revealed on the Endurance Reunion Special that he was surprised he made it through the Right To Stay elimination as he had thrown up on the boat ride to the island.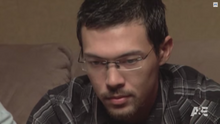 Please do not upload personal images of the contestant unless you have received permission.
External Links
Edit
References
Edit
Community content is available under
CC-BY-SA
unless otherwise noted.